Imagine running in a proper distance race, in the middle of a typical New England winter, but you can dress like its September. Awesome, right? We thought so too… so we made it reality. Introducing the Arena Attack Indoor Road Race Series! Utilizing the wide concourses found in indoor arenas, we run distance races ranging from marathons to 1-mile kids runs. Here are some of the things you can look forward to at your Arena Attack Race:
-We control the climate, so we can make sure the conditions are optimal.
-The course is perfectly flat, so no hills.
-Absolutely spectator-friendly. You'll see your runner on every lap.
-Water stations and bathrooms are never more than a lap away.
-We digitally track your laps and project everyone's lap count clearly in your view.
-On-course DJ keeps the runners and spectators entertained all day.
The Arena Attack is a perfect race to test yourself before your spring races or come break your personal records. Check out the half marathon times our runners produced at our first race ever on January, 26 2013 – PICTURES - RESULTS
Here are our Winter 2013-2014 venues! Click on the venue logo below to discover specific details on that venue's Arena Attack. Don't wait too long to sign up… these races will reach capacity quickly!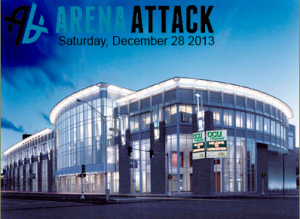 DCU Center – Worcester, MA – Saturday, December 28, 2013
Events: Half Marathon, 10K, 5K, & Push Rim 5k, and CrossFit
CrossFit Throwdown box host is CrossFit CenterMass
Race Registration is Open!  Throwdown Registration is Open!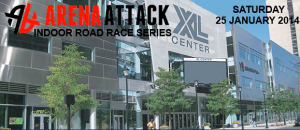 XL Center – Hartford, CT - Saturday, January 25, 2014
Events: Marathon, Marathon Relay, Half Marathon, and 5K
Online Registration is Open!

Thank you to our 2013-2014 Corporate Partners: