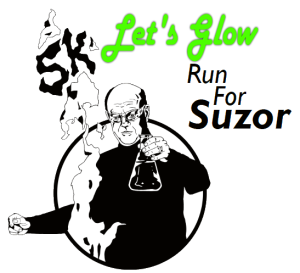 Presenting the 2nd Annual Let's Glow Run 5k for Suzor – a race in memory of Mr. Ray Suzor, our beloved chemistry teacher at Somers High School who passed away in 2015. Join us for this twilight 5k, where we'll create our own chemical reactions by lining the entire 12-loop course with over 1,000 glow sticks!
When: Saturday, July 22, 2017
Place: Somers High School Track – 5 Vision Blvd, Somers, CT 06071
Distance: 5k Run/Walk
Time: 8:30 PM
Here are some of the things you can look forward during your race:
-The course is perfectly flat! No hills!
-Absolutely spectator-friendly. You'll see your runner on every lap.
-Water stations and bathrooms are never more than a lap away.
-On-course DJ keeps the runners and spectators entertained.
Sign up by June 16th, you're guaranteed a t-shirt & personalized bib!




Thanks to our collective effort, in 2016 we were able to donate $2,290 to the Shriner's Hospital in Springfield!
Thank you to our 2016 Corporate Partners: